DRYGUARDIANS APP
Let our smart service guide you through the treatment!
Treating bedwetting with a bedwetting alarm affects the whole family but is an effective treatment tool in most cases.
Our digital service is developed with Swedish healthcare to give you the best conditions for a successful treatment.
  DOWNLOAD THE APP FOR FREE
  Register & get a diagnosis
  START TREATMENT now
  Get customized feedback
   Useful advice & tips
You get access to this in the DryGuardians App:
Easy & fast registration.
Connect wirelessly, via Bluetooth, to the Pjama Sensor (our alarms can be found here!)
Possibility to use the phone as an extra alarm.
Set day alarms to remind your child to go to the bathroom.
Calendar to register outcomes per night & be able to follow the progress.
General tips & advice during the treatment.
Record your own voice alarm to easier wake up the child or yourself.
Customized feedback on your treatment.
Motivation for parent & child (texts, pictures & videos).
1. ACHIEVE SUCCESS ON YOUR OWN OR WITH EXPERT GUIDANCE:

Take charge of your treatment journey! Whether you prefer to work independently or under the guidance of your trusted doctor or nurse, the DryGuardians Bedwetting Service will help guide you. Experience the convenience of daily progress tracking, while allowing your healthcare provider to monitor your advancement and make necessary adjustments for optimized results.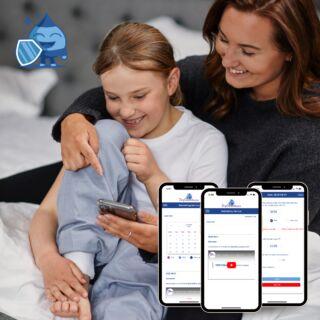 2. EASY APP DOWNLOAD:
Begin your transformational journey by downloading and installing the DryGuardians App effortlessly, absolutely free! Our user-friendly app is available in multiple languages, ensuring a smooth experience tailored to your preferences.
3. QUICK REGISTRATION:
Register within the DryGuardians App and enter vital information about your bedwetting treatment progress. If your clinic isn't listed yet, or you're taking charge of your journey by your self, simply select "DryGuardians Bedwetting Clinic" as your dedicated clinic. For those in contact with a specific clinic, choose the relevant option. Additionally, the app supports multiple devices, allowing families or individuals to track their progress by using the same email and password.
4. EQUIP YOURSELF WITH A CUTTING-EDGE BEDWETTING ALARM:

To reach the full potential of your treatment, access to a reliable bedwetting alarm is essential. In some regions, healthcare providers offer bedwetting alarms. If they are unavailable in your area, don't worry! Our web shop provides high-quality alarms designed for both boys and girls. Follow our guide in the web shop for the best results
5. BEGIN YOUR JOURNEY TO SUCCESS:
With your bedwetting alarm in hand, you're prepared to begin your treatment journey. Consistency is key, so make sure to use the alarm every night and record your progress in the app's calendar daily.
If your healthcare provider is connected to our system, they can digitally monitor your progress, ensuring you stay on track.
For those using their phone as an alarm device, remember to keep the Pjama App running in the background within 5-10 meters of the sensor, extending to about 20 meters with certain phones.
6. EXPERT ADVICE & IN-DEPTH ANALYSIS:
The DryGuardians Bedwetting Service provides advice throughout your treatment journey, directly in your app. Benefit from general guidance and personalized recommendations based on your progress. With daily data analysis, we fine-tune your treatment plan for optimal outcomes.
After four weeks, a comprehensive analysis predicts the continuation or potential termination of your bedwetting alarm treatment, something that might save you many weeks of unnecessary frustration. Subsequent analyses are conducted every two weeks.
You are considered cured at 14 dry nights in a row, but to be safe, we recommend that you continue until you have 28 dry nights in a row. We have compiled a list of Treatment Advice and recommendations to help you when starting treatment with a bedwetting alarm.
DO YOU WORK IN HEALTHCARE
CURIOUS ABOUT THE DRYGUARDIANS BEDWETTING CLINIC?
If you work in healthcare and are not yet connected to the DryGuardians Bedwetting Clinic, learn more about it here.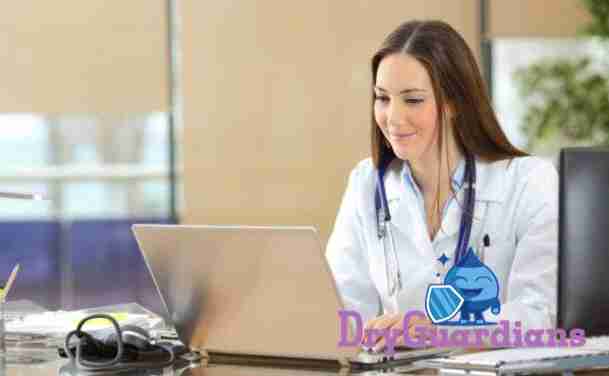 PJAMA IS ENGAGED IN BEDWETTING RESEARCH!
PROJECT WITH SWEDISH HEALTHCARE
DryGuardians has been developed in a larger project together with Swedish healthcare and leading researchers, doctors and nurses specialized in enuresis. The project optimizes bedwetting treatment and looks for new predictors for which type of treatment is most beneficial for the treatment of bedwetting.
There are currently 30 hospitals around Sweden that treat patients using Pjama's bedwetting service.